---
Cycling trail PARENZANA:
We offer a collective transfer on Saturday at 19:00 and Sunday at 17:00 with departure from Poreč.
Minimum for 3 persons, or pay for 3 tickets !
Price from Poreč:
- to Portoro˛ = 25 EUR per person
- to Koper = 35 EUR per person
- to Muggia = 40 EUR per person
- to Trieste = 45 EUR per person
For individual group we are available with privat transfer on request all days of the week any time.

Please book your seat in advance

Meeting point
---
Alpe Adria - Bike transfer and transfer of cyclists
We are a transportation company, which provides taxi services and all kind of transfers in Slovenia and neighbourhood countries like Italia, Croatia, Austria and also Germany - for more than 25 years.
We have also a trailer which can transport 20 bicycles and a bikecarier for 4 bicycles.
We offer transfers for individuals with bicycles and laguage or transfers for bigger groups.
We cooperate with agencys FUNACTIVE from south Tirol, Kärnten Radreisen from Villach and HELIA from Bled Slovenia. Together with them, we organize weekly tours:
- aroud the Gulf of Trieste (from Venice to Porec, Croatia) and also daily bagage transportation from
one hotel to another hotel for people who ride bicycles on this tour
- ALPE - ADRIA tour from Salzburg Austria to Grado Italy
- Trans Dolomiti tour from Dobbiaco via Cortina d'Ampezzo to Trieste Italy
- tour from Villach Austria to Trieste Italy
- Kranjska gora via Ljubljana to Piran Slovenia
- Trieste Italy to Pula Croatia
- Parenzana from Trieste Italy via Piran to Porec Croatia
If you have an idea for your private tour do not hesitate to contact us !
Several time we organize transfers for people with bicycles from north Adriatic sea like Venice, Grado, Trieste, Piran, Porec towards north Italy, south Tirol, Austria or south Germany.
We offer high quality service with Mercedes vehicles.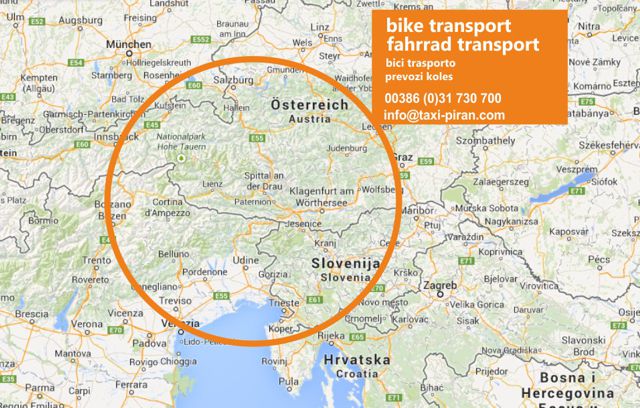 Trailers and bicycle holder
Trailer for 20 bicycles, the carrier for 4 bikes

Cycling trail PARENZANA
http://www.parenzana.info/transport.html
http://www.parenzana.info/transport1.html
Bike Transfer - rad, rad reisen, radwanderungen - transfer, transport
Trieste - Grado - Spital - Villach - Salzburg - Klagenfurt - Dobbiaco - Piran - Portoroz - Izola - Koper
http://www.funactive.info/it/ Funactive

Ciclovia Alpe Adria Radweg - Rad Transfer - transfer, transport
http://www.funactive.info/it/ Ciclovia


Aple Adria Radweg
Ciclovia Alpe-Adria-Radweg: Überblick der Etappen
http://www.fahrrad-tour.de/AlpeAdriaRadweg/AlpeAdriaRadweg_ueberblick.htm

Eurobike - Radspass in Europ
http://www.eurobike.at/de




Trekkingbike - das Fahrradmagazin
http://www.trekkingbike.com/

Profirad - Alpenüberquerung mit dem Fahrrad - Der Alpe Adria Radweg
http://www.profirad.de/

Rad-Reise-Service
ALPE-ADRIA-RADWEG - Radtour von Österreich ans Mittelmeer
http://www.rad-reise-service.de


Mountainbiketouren in Slowenien
http://mtb-slowenien.de/

Errobike - Einfach. Mehr. Fahrrad
http://www.eurobike.de/

Das Mountainbike-Magazin
Slowenien-Durchquerung
http://www.bike-magazin.de/


MTB Trans - Slovenien
http://www.alpenverein.at/

Mountain bike trails | GPS Tracks in Slovenia
http://www.gpsies.com/trackCollection.do?country=SI&trackTypes=mountainbiking